When you have raw bananas handy and unexpected visitor comes home then it is raw banana bajjis | fritters that you can make in jiffy. Bajjis/Fritters are the easy tea time snacks that we can prepare just in few minutes. You can find breadfruit bajjis recipe in this space, now it is raw banana bajjis turn. Let us see the recipe.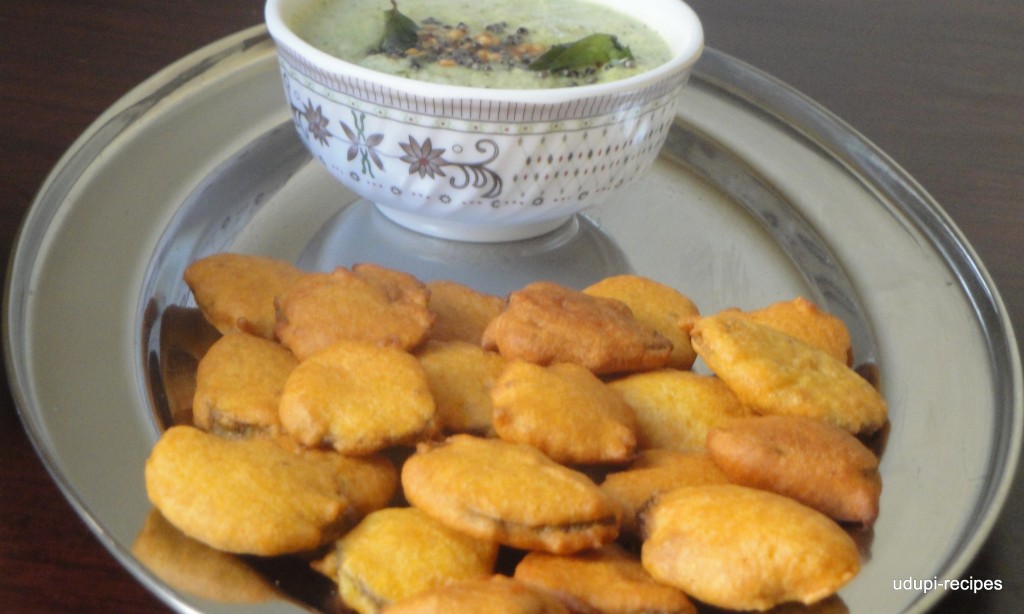 Raw Banana Recipes- Raw Banana Bajjis/Raw Banana Fritters/Balekayi Podi Recipe
Ingredients
Raw Bananas- 3 no.
Gram flour/chickpea flour- 1 cup
Rice flour- 1/2 cup
Salt- 1 tea spoon
Chilly powder- 1 teaspoon
Carom seeds- 1/2 teaspoon
Turmeric powder- 1/2 teaspoon
Asafoetida- A pinch
Baking soda- A pinch(optional)
Cooking oil for deep frying fritters
Instructions
Preparation

Peel the raw bananas and chop them in to thin circular slices. Immerse these slices in water to avoid discoloration.

Method

Add gram flour, rice flour, salt, chilly powder, turmeric powder, carom seeds, asafoetida and baking soda in to a large bowl and mix them well. Now add water and prepare batter without any lumps in it. The consistency of the batter should be same that of dosa batter.
Heat a pan/kadai adding cooking oil enough for deep frying the bajjis. To check the oil is hot enough to fry the fritters, drop a small lump of gram flour batter in it. If the batter raises to the surface immediately, then oil is ready to deep fry the raw banana bajjis. Lower the flame now. Dip each raw banana slice in gram flour batter such that the batter gets coated over banana slice evenly.
Drop them in to oil and fry both sides until they turn light golden color. You can fry the bajjis in batches. Remove the bajjis from oil using perforated ladle and place them on tissue to drain excess oil.
Now serve raw banana bajjis/fritters with spicy coconut chutney and enjoy them as tea time snack.

Note:

Baking soda is optional but it makes the bajjis/fritters crispy. Add a pinch of it to get crispier bajjis.
The raw banana should be sliced very thin and frying should be in low flame otherwise banana will not get cooked well.
https://udupi-recipes.com/2013/10/raw-banana-recipes-raw-banana-bajjisraw-banana-frittersbalekayi-podi-recipe.html
All the content in this website are © Copyrighted to – Udupi-Recipes
 Meet you all with one more interesting Udupi recipe. Till then bye.