Mango the king of fruits is very versatile. We can use mango, raw or ripen in various delicacies including rasayana, curry, menaskai, gojju, saasmi, chutney, pickle and the list goes on. I love mango in all these dishes. In mango season we enjoy all form of raw mango recipes and ripe mango recipes. It is just amazing.Today let us see the simple raw mango curry/gojju whatever you call. It is so simple that we can finish in minutes. But trust me you will keep licking your fingers for sure…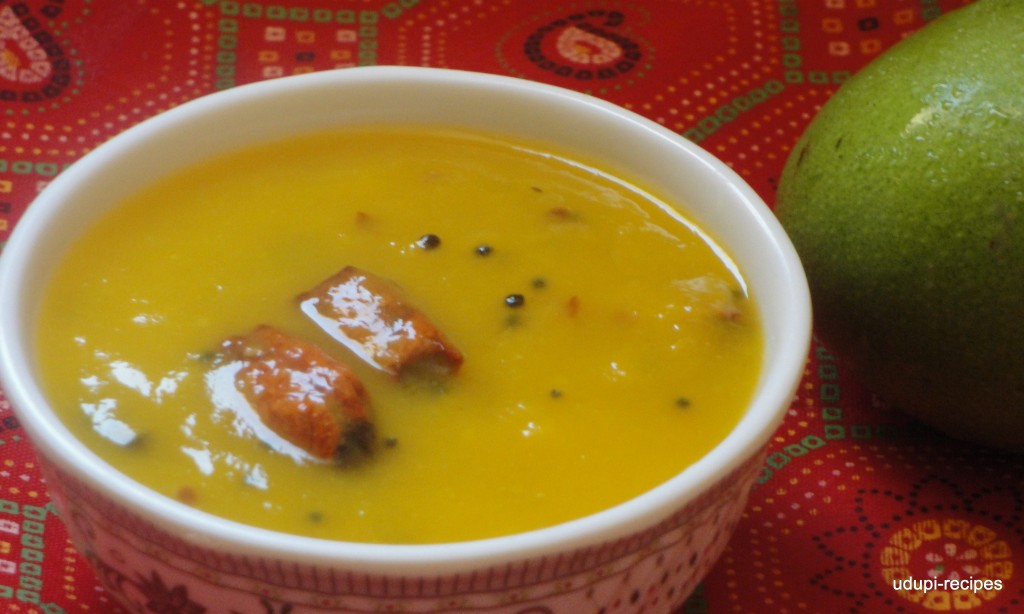 Raw Mango Recipes-Raw Mango Curry/Raw Mango Gojju without Coconut
Ingredients
Raw mango medium sized- 1 no.
Green chillies- 2 no.
Salt- 1 tea spoon or to taste
Seasoning ingredients
Cooking oil- 2 tea spoon
Mustard seeds- 1 tea spoon
Urad dal/Split black gram- 1/2 tea spoon
Red chilly- 1 no.
Instructions
Preparation

Chop the green chillies in to small pieces.

Method

Cook the whole raw mango till mushy. You can pressure cook it too for 3 whistles. It looks just as below.
Squeeze the pulp from mushy mango discarding peel and seed. Add little water if needed.
Heat a seasoning pan adding cooking oil, mustard seeds, urad dal, broken red chilly and chopped green chillies. Once the mustard seeds splutter add the seasoning to the mango pulp collected. Add the salt and stir well.
Simple tangy and spicy raw mango curry/gojju is ready to serve. It goes very very well with hot rice. Yummmmm.....

Note:

Tangy raw mango is best for this curry.
https://udupi-recipes.com/2013/07/raw-mango-recipes-raw-mango-curryraw-mango-gojju-without-coconut.html
All the content in this website are © Copyrighted to – Udupi-Recipes
Meet you all with one more interesting Udupi recipe. Till then bye.