Udupi food/delicacies have spread across globe through Udupi hotels launched worldwide. In India most of the cities have atleast one Udupi hotel catered to serve the signature recipes of the south canara region. Idly-vada, masala dosa, uttapam, set dosa are some of the most famous delicacies. A twist to these Udupi dishes has been introduced with the use of onion by these hotels. Uttapam is one such dish that is soft and crispy with onions in it. Today I will brief you on onion-uttapam served in most of the hotels.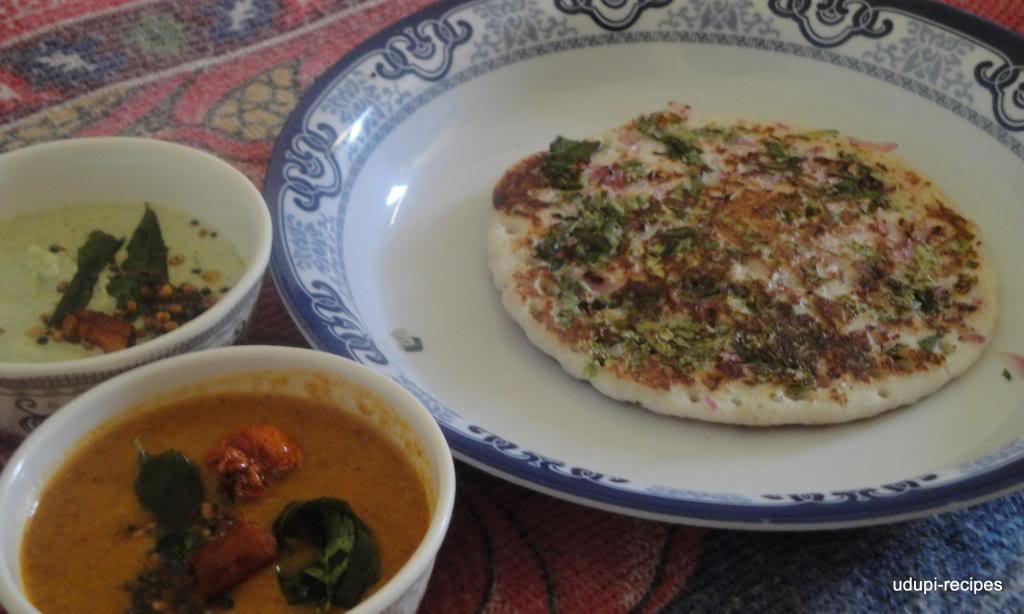 Uttapam/Onion Uttapam Recipe- Breakfast Recipes
Ingredients
Dosa rice- 2 cups
Split black gram/Urad dal- 1/2 cup
Fenugreek seeds- 1 teaspoon
Thin rice flakes- 2 fistful
Salt- 2 teaspoon

Vegetables to spread on Uttapam

Onion- 2 big sized
Cilantro- Handful
Green chillies- 2 to 3 nos
Curry leaves- 2 to 3 strands
Instructions
Preparation

Wash and soak dosa rice, split black gram and fenugreek seeds together in water for 3 to 4 hours. Soak thin rice flakes just 15 minutes before grinding. Now grind all these soaked ingredients finely adding required water. The consistency of the batter should be just like dosa batter. Keep the batter in warm place. Let it ferment overnight. The uttapam batter is ready the next morning and looks as below.
Chop the onions, cilantro, green chillies and curry leaves finely and keep it aside.

Method

Add the salt to uttapam batter and mix it well. Now heat dosa griddle drizzling some cooking oil on it. Once the griddle is well heated, pour one and a half ladle of uttapam batter at the center, do not spread it(see the picture below). Let it be on low flame.
Now spread finely chopped onions, cilantro, curry leaves and green chillies evenly on uttapam.
Just leave it for 2 minutes and flip it to cook the other side. Uttapam gets cooked with onions and other vegetables getting caramelized.
Porous and crispy onion uttapam is ready. Serve it with chutney and sambar of your choice.

Note:

Cook uttapam in low flame so that it cooks well. High flame makes uttapam burnt outside and remains uncooked inside.
Do not mix the onion, cilantro, curry leaves and green chillies directly to the batter. Onion will not get caramelized and you will not get crispiness.
https://udupi-recipes.com/2013/06/uttapamonion-uttapam-recipe-breakfast-recipes.html
All the content in this website are © Copyrighted to – Udupi-Recipes
Meet you all with one more interesting Udupi recipe. Till then bye.