A very simple rice accompaniment prepared using coconut, yoghurt and vegetables like Yam, Yellow cucumber, Ash gourd, Tindora or Potato is majjige huli. In Tulu we call this curry as "Kodakyana". It doesn't require much spices and tastes mild too. It can be good combination with idly as well. Today I am posting majjige huli recipe.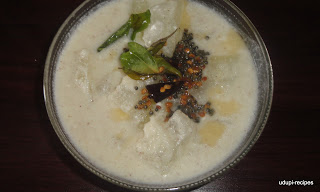 Ash gourd Majjige Huli Recipe -Kodakyana Recipe
Ingredients
Ash gourd - 1/2 kg
Grated coconut- 1 cup
Green chillies- 2
Rice- 1 tsp
Fenugreek seeds- 1/4 tsp
Curry leaves- 1 strand
Curds- 1/2 cup

Seasoning Ingredients

Mustard seeds- 1 tsp
Urad dal- 1/2 tsp
Red chilly- 2
Curry leaves- 1 strand
oil- 2 tsp
Instructions
Preparation

Wash and peel the ash gourd. Remove the topmost flesh containing seeds which can be used for preparing tambuli. Cut the thick flesh in to square cubes and keep them aside.

Method

In a cooking vessel add the ash gourd pieces, 1 strand curry leave and water up to level of pieces. Bring this to boil under medium flame. Once it boils simmer the flame. Let the pieces cook till they become tender.
Meanwhile in a seasoning pan dry roast the fenugreek seeds till they change color. Grind the coconut, roasted fenugreek seeds, green chillies and rice to a fine paste.
Add this ground masala to the cooked ash gourd pieces, add salt to taste and bring to boil.
At the end just add curds, mix well and switch off the flame. Do not boil after adding curds.
Heat a seasoning pan adding oil, mustard seeds, urad dal, broken red chilly and curry leaves. When the mustard seeds splutter and urad dal changes color, switch off the flame and add this to majjige huli.
Now the ash gourd majjige huli is ready to be served. It is a perfect combo with rice and idly. Try it out and let me know your feedback.

Note:

This curry needs fresh coconut for perfect taste.
Rice is used to increase thickness of the curry. It is optional.
https://udupi-recipes.com/2012/10/ash-gourd-majjige-huli-recipe-kodakyana-recipe.html
All the content in this website are © Copyrighted to – Udupi-Recipes
Meet you all with one more interesting Udupi recipe. Till then bye.