After a very long, I tempted to try my hands on these cute little badusha pieces. And the most delighting part, the sweet turned out perfect like flaky with crispy exterior and soft interior. As you bite it, the flaky layers with all the sugary sweetness melt in your mouth. In fact, I loved these sweet things. I am seriously thinking, what kept me away from making badusha in my kitchen all these days? Well, there are million reasons. May be a kind of laziness wrapped me around? May be. What so ever.
Let me put together some important things to take care of in this recipe. Badusha or balushahi whatever you call, is made up of all purpose flour(maida). It has gluten. So first step is to get rid of that gluten. And a good amount of melted ghee (remember NOT HOT) goes in to it. Ghee makes the maida gluten free. As you mix ghee with flour through your fingers, maida takes crumble form.  The baking soda and yogurt helps maida to be aerated. And we get flaky sweet which is awesome.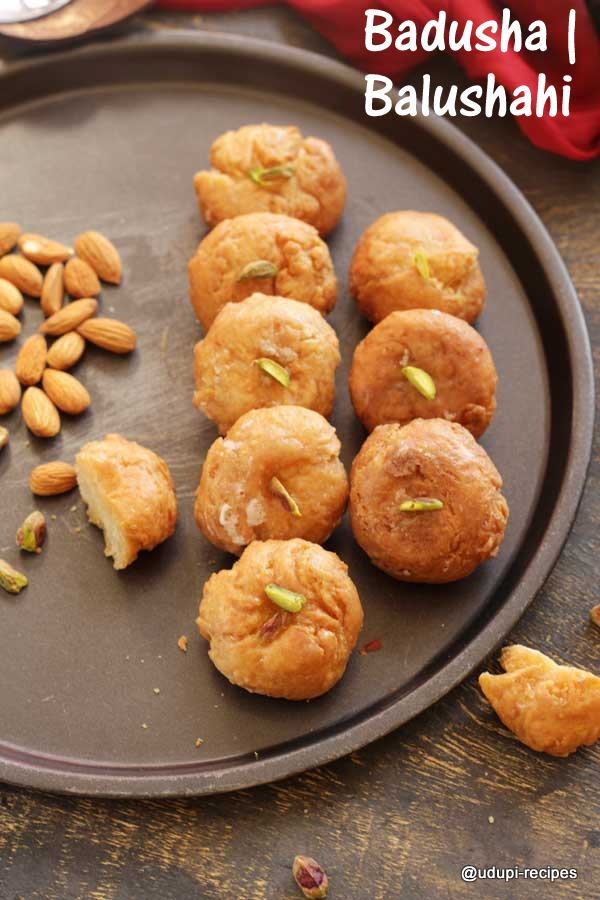 When you make dough with all these ingredients included, the dough doesn't turn to be smooth. And you don't try to bring in smooth texture. Because the dough is perfect with uneven texture.  Next caution of word is with deep frying. When the dough shaped like badusha gets in to oil, it should be cooked in low flame. And the oil has to be medium hot. So this is kind of patience demanding. So you have to be patient to devour yummy sweet thing after all!
When perfectly deep fried badusha is immersed in sugar syrup, each layer inside absorbs syrup. And it's totally a bliss. So what is keeping you away from trying this awesomeness?? nothing hopefully.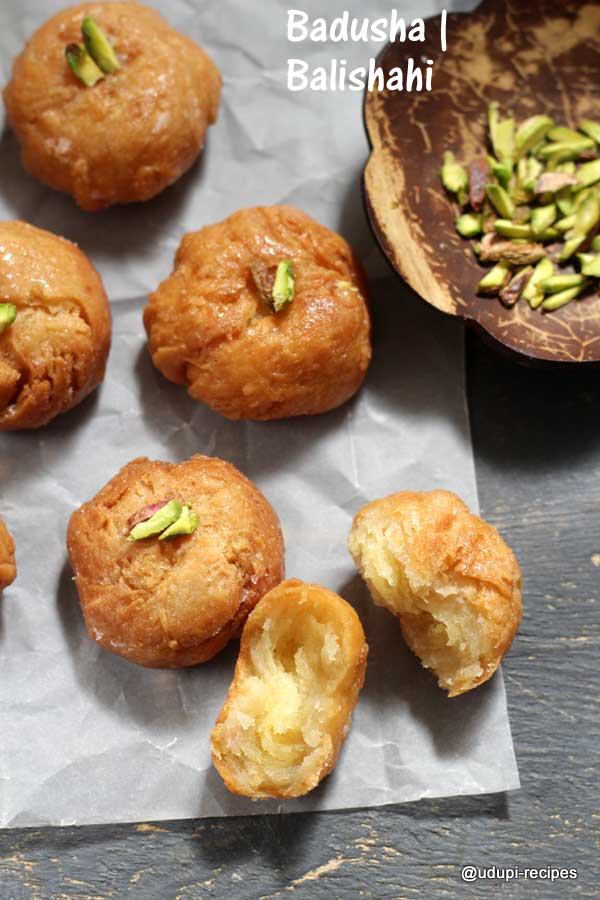 Watch the video:
Badusha | Balushahi Recipe
Ingredients
All purpose flour(maida)- 1.5 cup
Baking soda- 1/4 tsp
Ghee- 1/4 cup
Curds(yogurt)- 1/4 cup
Water- as needed
Cooking oil- Enough to deep fry

For sugar syrup

Sugar- 1.5 cup
Water - 3/4 cup
Cardamom powder- 1/4 tsp
Lemon juice- 1 tsp
Instructions
Method

Add maida and baking soda to a sieve. Sieve it together in to a wide bowl.
Next include ghee to it. Mix with your fingers such that maida doesn't form any gluten.
Maida gets crumbled form and when you hold in your fist, it holds shape. Now include curds.
Mix the curds with crumbled maida. Add little water and form dough. Do not knead the dough, simply mix to bind it together. Cover with damp cloth and rest for 20 minutes.
Now to prepare sugar syrup, add sugar to a cooking pan. Include 3/4 cup of water.
In medium flame cook the sugar syrup till it reaches one string consistency. If you take a drop of syrup between your index finger and thumb, it forms single string. Add cardamom powder and lemon. Keep it covered.
Next after the resting time, mix the dough once again. It will not have smooth texture, do not worry. Pinch a lemon sized dough, make a ball and flatten it. Make a dent at the center.
Prepare a batch of badusha ready. Next heat oil in heavy bottom pan. The oil should be low to medium hot. Drop few badusha in to oil and cook in low flame.
The badusha cooks slowly and raises to the top. Deep fry them both sides till they change color to brown. Once done, remove from the oil and immerse in to warm sugar syrup for 5 minutes. Then remove.
Repeat the process with rest of the badusha. Garnish with pistachio. Flaky and easy sweet badusha is ready to serve on any celebrations.

Notes

The ghee should be in melted form but not hot. Ghee helps to remove gluten from maida.
Baking soda and curds help badusha to be soft.
While making dough, do not knead. Add only required water. If it appears flaky do not worry.
The badusha should be deep fried in medium hot oil. i.e if you drop little dough, it should slowly raise to the top. That is the perfect temperature.
Cook it patiently as it takes time to deep fry.
Lemon juice is used to avoid crystalisaion of sugar syrup.
Do not immerse the badusha in syrup for longer, it may break.
https://udupi-recipes.com/2019/02/badusha-balushahi-recipe.html
All the content in this website are © Copyrighted to – Udupi-Recipes