This chapati side dish screams all things healthy at me. Because you guessed it right, it has that healthy color. GREEN. It also has some crunchy veggies in it like beans, carrot, peas and stuff like that. The blend of nutritious veggies along with intense green, creamy palak puree is what makes this vegetable palak gravy. Veggies absorbing all the flavors and color from palak puree taste way better at this time of the year. When I said "this time of the year", I am pointing towards season obviously. Those of you who reside in my loving land INDIA, must have already inhaled the heady aroma of earth after the first monsoon. Because monsoon rains have happened for REAL in India soothing the mother earth which was longing the same.
First monsoon rain is always very fascinating to everyone. It's a kind of sigh feeling after the sunny days and sweats. The warmer and sweaty breeze of summer turn out to be cooler and refreshing in the season. Which is why I get kind of excited and happy about first rain. But alas…I am still in SUMMER weather which is kind blazing and burning here in UAE. Cooking an awesome food is getting harder day by day in this part of world. And I come out for the Air Conditioner after every minute in kitchen. It's terrible to be luxurious in food department, meaning the lunch and dinner are becoming compact and less complex.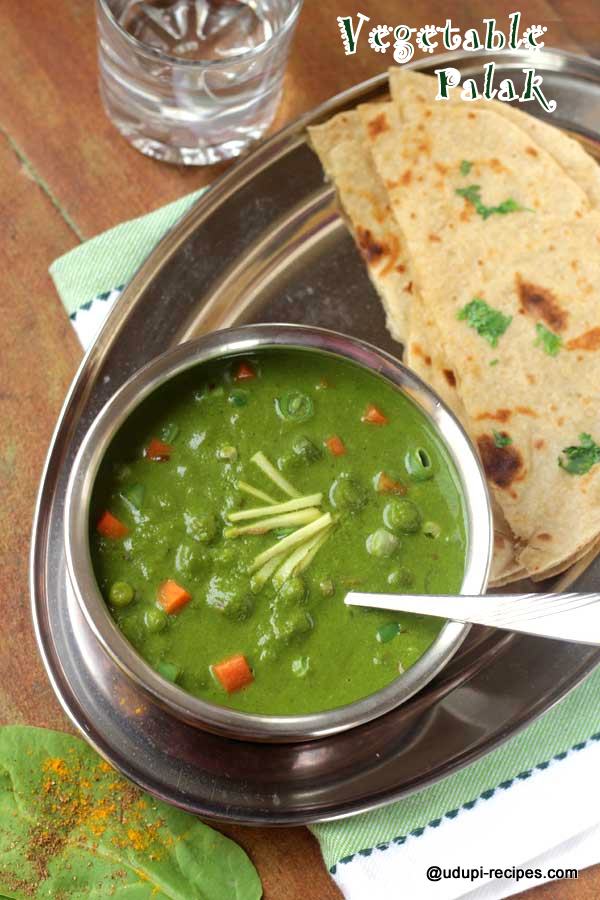 And this vegetable palak gravy is no complex. It's simple, quick, easy and straight forward. Like this dal palak. The trademark of this recipe is intense, rich and creamy palak puree. The credit for creaminess goes to cashews plus onion. The sauteed onion along with cashews make it all happen. And the crunchy veggies cooked up in green puree infuse the awesome taste and flavors.
Vegetable Palak Recipe | Healthy Chapati Side Dish
Ingredients
Palak leaves- 1 cup pressed
Vegetables- 1 cup
Green chillies- 2 nos.
Coriander leaves- 1/4 cup
Cashew- 4 to 5 nos.
Yogurt- 1/8 cup
Onion- 1 no.
Chopped ginger- 1 tsp
Chopped garlic- 1 tsp
Turmeric- 1/4 tsp
Salt- 1 tsp
Garam masala powder- 1 tsp
Cooking oil- 2 tsp
Instructions
Preparation

Chop the vegetable finely and roughly break the palak leaves. Set aside. I have used beans, carrot and fresh peas. You can use potato, capsicum and cauliflower too.

Method

Heat oil in a pan and roast ginger, garlic and green chillies together. When the chillies change color, add onion and saute till it is translucent.
Next throw in the palak and continue sauteing till it wilts. Finally add coriander leaves too. Switch off all of them have been roasted well.
Take all the roasted ingredients in a mixer along with cashews and grind to fine puree. Add some water ease of pureeing. Meanwhile cook the vegetables with water till the immersing level.
If you have chosen to add cauliflower and capsicum, then add them towards the end because they get cooked faster. When the veggies are done add ground palak puree.
Cook for few minutes and add turmeric powder and garam masala. Cook till the gravy thickens. Finally add whisked yogurt, stir and switch off.
Very healthy green goodness vegetable palak is ready to serve with chapati and or poori.

Notes

I recommend not to use the thick stem of palak, it may alter the taste.
Chop the veggies finely in uniform shape, so that they get cooked evenly. If you are using capsicum or cauliflower add them when other veggies are halfway done.
Soak the cashews in some warm water for about 10 minutes for ease of grinding.
Do not overcook the gravy after adding yogurt.
https://udupi-recipes.com/2017/06/vegetable-palak-gravy-chapati-side-dish.html
All the content in this website are © Copyrighted to – Udupi-Recipes