All my readers must have noticed by now that the site is upcoming with new look and style. Yes, I have moved my site from blogger to self hosted wordpress. This piece of web called "udupi-recipes" wouldn't exist without your support. Thank you for your time and interest in checking these recipes.
Well, today I have brought a seasonal specific recipe called "til ke laddo or sesame laddu or ellu unde". Seasonal specific meaning, the food that we eat should meet the demands of changing climatic conditions. In winter months we need to consume food that keeps our body heated. Sesame seeds are packed with all the essentials that keeps our body fit and healthy during winter. These sweet sesame balls are available in bakeries all around the year. Let us learn how to make til ke laddos at home.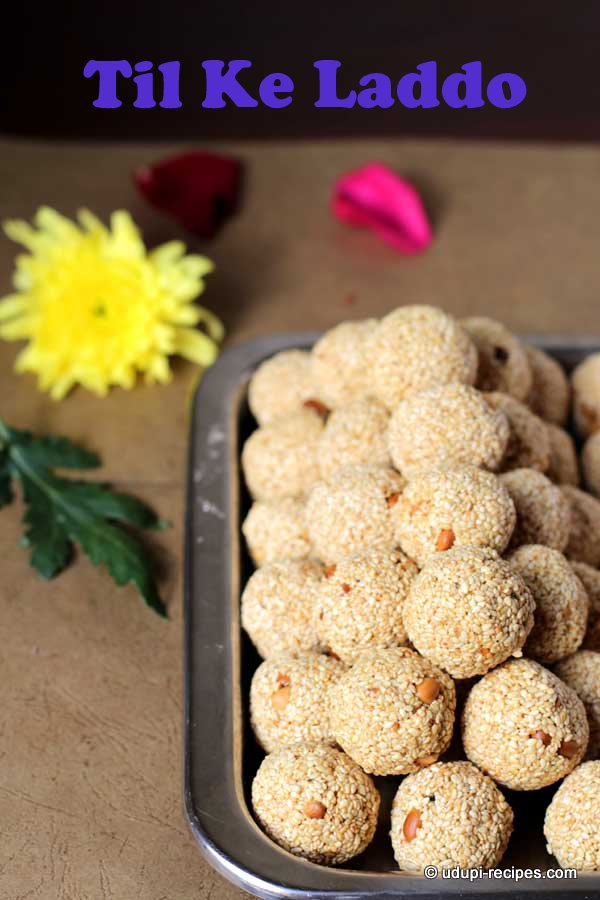 Til Ke Laddo | Sesame Laddo | Ellu Unde Recipe
Ingredients
White sesame seeds- 1 cup
Powdered jaggery- 1 cup
Cardamom pods- 3
Instructions
Preparation

Deseed cardamoms and powder them finely.

Method

Heat a pan/kadai adding white sesame seeds and roast them in low flame. When the seeds puff up and change color to brown, switch off the flame.Let it cool.
You can find aroma of roasted sesame seeds spreading all around the kitchen.
Add roasted sesame seeds in to a mixer and powder it coarsely. Transfer it to a wide bowl. Add cardamom powder as well to the same bowl.
Now heat a pan/kadai adding jaggery and 1/4 cup of water. Keep stirring till you get the jaggery syrup of soft ball consistency.That is, when you put a drop of jaggery syrup in to small bowl of water, you should be able to make soft ball out of that drop. It should not get dissolved. Keep checking and when it reaches the consistency switch off the flame.
Add the ready jaggery syrup to sesame laddo mix in the bowl. Mix well. When your palm can bear the heat of the laddo mix, take handful of it and shape it in the form of laddo.
Delicious til ke laddos/sweet sesame balls are ready.

Note:

While roasting white sesame seeds, ensure it's not burnt.
The sweet sesame balls that are available at bakeries are hard to eat, but I prefer soft ones so prepared accordingly.
If you want hard sesame laddos then the jaggery syrup should be of hard ball consistency.
You can add few roasted ground nuts for enhanced taste.
https://udupi-recipes.com/2013/12/til-ke-laddo-sesame-laddo-ellu-unde-recipe.html
All the content in this website are © Copyrighted to – Udupi-Recipes