We all have heard of parents complaining their kid's food habit, but have we ever thought that a child's eating habit starts at home and they always follow their elders.?? If we  stick on to healthy and nutritious food diet every day at home, then surely our little ones will follow our foot step.
Breakfast is said to be an important meal that keeps us active through out the day, so we must have filling and nutritious tiffin in the morning. Today I will brief you on breakfast recipe called Set dosa.  Spongy, soft, small, 5″ circular shaped dosas served as a stack of 3 to 4 is well known as set dosa in Udupi. The porous textured set dosa with brown color at the bottom tastes heaven with coconut chutney and Udupi sambar. Let me walk you through the recipe.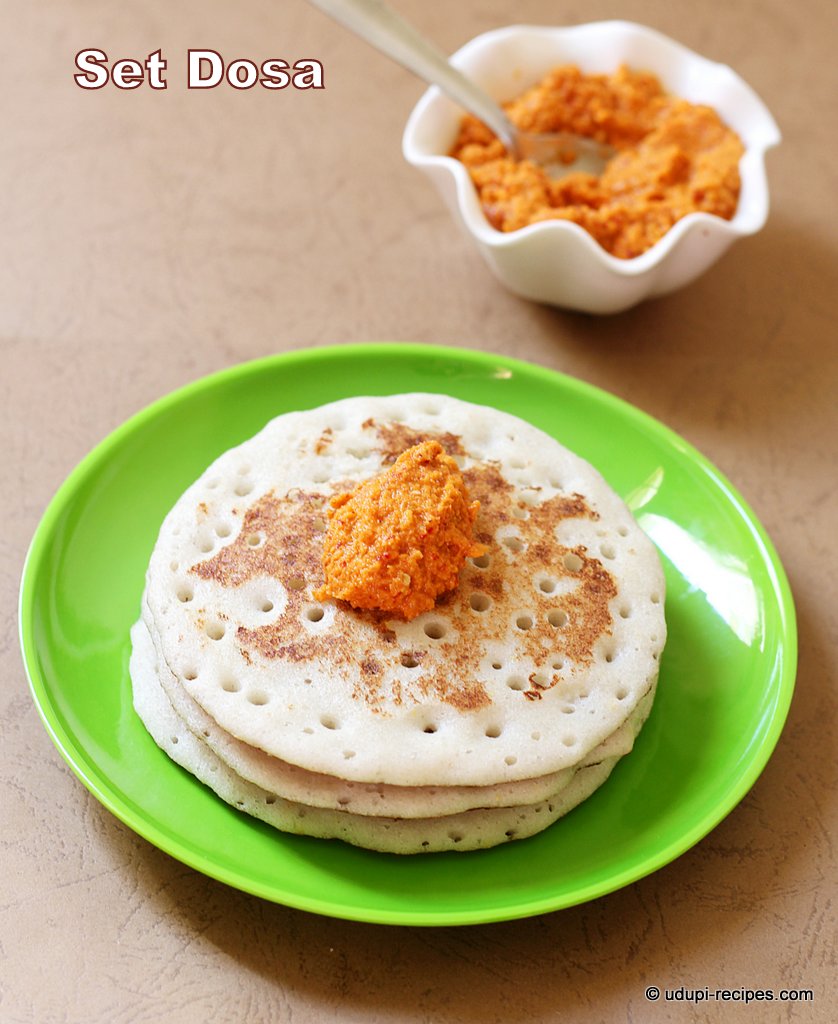 Set Dosa Recipe from Udupi
Ingredients
Dosa rice- 2 cups
Split black gram lentil- 1/2 cup
Fenugreek seeds- 2 tea spoon
Thin rice flakes/Aval- 1 cup
Salt- 2 teaspoon
Instructions
Preparation

Wash and soak rice, split black gram lentil and fenugreek seeds together in enough water for about 2 to 4 hours.

Method

Add all soaked ingredients in to a mixer and grind it adding some water.
When it is half ground, wash thin rice flakes with some water and add that too, then grind it together to fine batter. The batter should be of thick pouring consistency.
Transfer the batter to a container and keep it covered for 10 to 12 hours or overnight in warm place. Let it ferment.
Once when the set dosa batter is properly fermented, you will notice the volume of the batter would have been increased. Now add salt and mix it well using ladle. Set dosa batter is now ready.
Heat dosa griddle drizzling it with a teaspoon of oil. Once when the griddle fumes, lower the flame. Add a ladle full of set dosa batter at the center of griddle forming 4 to 5 inches circle. No need to spread it. Let it spread by itself. Cover it with lid and let it cook for few seconds. You will notice pores forming on the dosa.
Flip it to other side and cook that side too. Remove it from the griddle. Repeat the process with rest of the batter.
Set dosa with porous texture on top and brown color at the bottom is ready. Serve it hot with coconut chutney and udupi sambar.

Note:

Proper fermentation of the batter is very important. If it is not, then dosa will not turn spongy and soft for sure.
Grinding the batter using grinder makes the dosa more soft.
Rice to split black gram lentil ratio is 4:1.
Fenugreek seeds and thin rice flakes give nice color to the set dosa, so do not skip it.
http://udupi-recipes.com/2013/12/set-dosa-recipe-from-udupi.html
All the content in this website are © Copyrighted to – Udupi-Recipes
Meet you all with one more interesting Udupi recipe. Till then bye.