It's that time of the year, when you are way too anxious for a festive meal that has extra special sweet, snack, rice, curry and many more deliciously delicious food. When you are hungry for a meal which doesn't happen to be a everyday affair, then it must be a festival. Tomorrow it's one such festival Ugadi or Yugadi that marks beginning of the year as per Lunar calendar. All over Karnataka, traditional puran poli is usually prepared during this festive season. But dates puran poli recipe is what I am lately hooked on to. So thought it could be apt for this festival too.
Making dates puran poli is an elaborated process requiring prolonged presence of yourself in kitchen with sauteing, kneading, stuffing, rolling and cooking. I am usually accompanied by a helping hand whenever I plan such lengthy cooking. But this time it's only me who could whip up super delicious flat bread single handed. So right now I pause for while to applause myself. Is that allowed??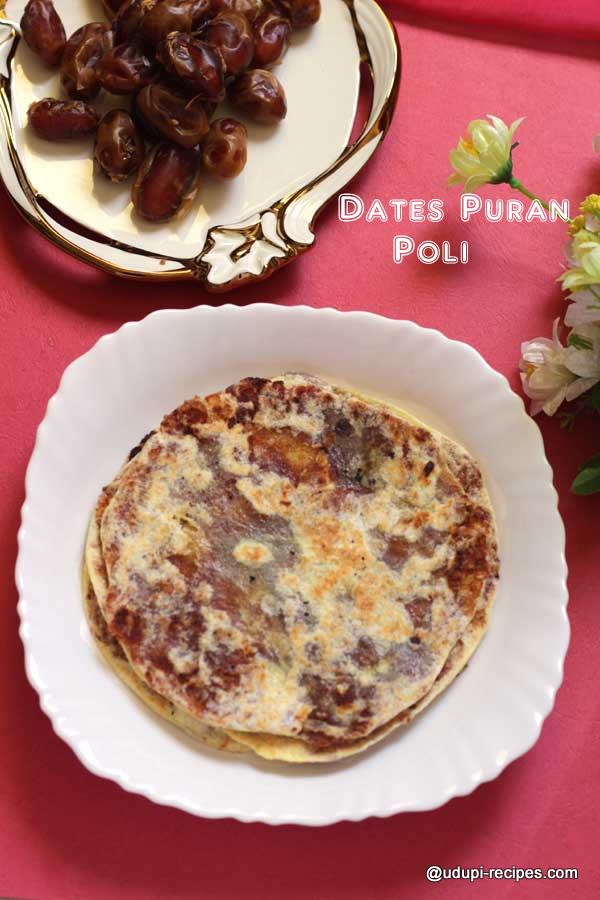 Fresh dates are an awesome gift from this land which I usually put in to utmost use. The pitted dates are soaked in warm water to make them really soft and then pureed in blender which then sauteed with desiccated coconut. Sauteing makes the dates puree thick which then holds shape for stuffing in the dough. Rolling such stuffed dough on a oil smeared polythene would be hassle free as you get the experience. So why don't you try dates puran poli this year and get hold of it??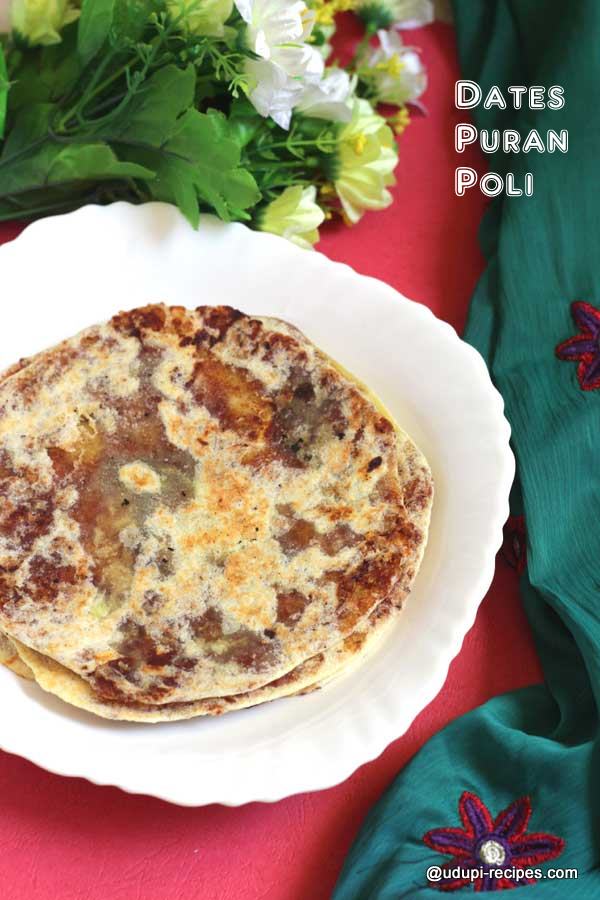 Dates Puran Poli | Kharjoorda Holige
Ingredients
For stuffing

Dates- 1 cup
Jaggery powder- 2 tsp
Desiccated coconut- 1/4 cup
Cardamom powder- 1/4 tsp

For dough

Chiroti rava- 1/2 cup
Maida- 1/8 cup
Salt- 1/2 tsp
Turmeric powder- A pinch
Oil- 1/4 cup
Water- 1/3 cup
Instructions
Preparation

Take chiroti rava, maida, salt and turmeric powder in a bowl. Give a quick stir to combine everything well.
Then adding water in parts make a soft pliable dough. At last add some oil and knead it well with your hand. Sprinkle 2 tsp of water and cover it with a damp cloth or lid and let it rest for about half an hour. After the resting time, knead once again with some more oil till you get really soft and loose dough.

Method

To make stuffing for this poli, soak de-seeded dates in warm water for about 15 minutes. Drain the water and grind them in to fine paste.
Heat a pan with jaggery and a tea spoon of water. Let the jaggery dissolve completely, then include ground paste. Saute for few minutes. Next add desiccated coconut, cardamom powder and saute till it thickens. Switch off and let it cool down.
Divide the dates stuffing and dough in to 5-6 lemon sized balls. Keep them ready to proceed with dates puran poli.
Next take a dough ball in your palm, widen a bit with your fingers and then keep a dates puran ball prepared in above step. Carefully cover the stuffing with dough and seal on top. Next smear enough oil over a polythene sheet and roll the dates stuffed dough in to medium thin disc of 4 to 5". Meanwhile heat a non-stick skillet.
Carefully slide the rolled poli on your palm and transfer it over heated skillet. In medium flame let it cook. When bubbles start appearing, flip and cook till few brown spots show up. Remove it from skillet and continue the process with rest of the dough and puran. Divine tasting dates puran poli is ready to serve topping a dollop of ghee.

Notes

You can make dough using only maida itself. I tried adding chiroti rava this time to make it bit more healthier.
Remember while making dough, add water in parts. Let the dough be little more loose than chapati dough.
Saute the pureed dates till you get thick puran which can easily hold the shape of ball. Desiccated coconut helps in thickening the dates stuffing.
You can even skip adding jaggery as the sweetness from dates is suffice.
http://udupi-recipes.com/2016/04/dates-puran-poli-kharjoorda-holige.html
All the content in this website are © Copyrighted to – Udupi-Recipes