Steamed Modak,  sweet coconut stuffed little rice dumplings are festival joy for sure. As we are headed towards a festival of Lord Ganesha this week on September 17th, this space has to have some traditional, authentic recipes of the occasion and that is the only way to be blessed by so called elephant headed God. <= This is true story for food bloggers like me who bound to make festival specific delicacies in advance.
There is something exciting happens at my kitchen or let me tell you, I find myself excited to prepare such artistically pleated rice dumpling with a peak which is stuffed with drool-worthy coconut-jaggery filling. You will get moulds to make steamed modak but here I have tried my hands to get them done.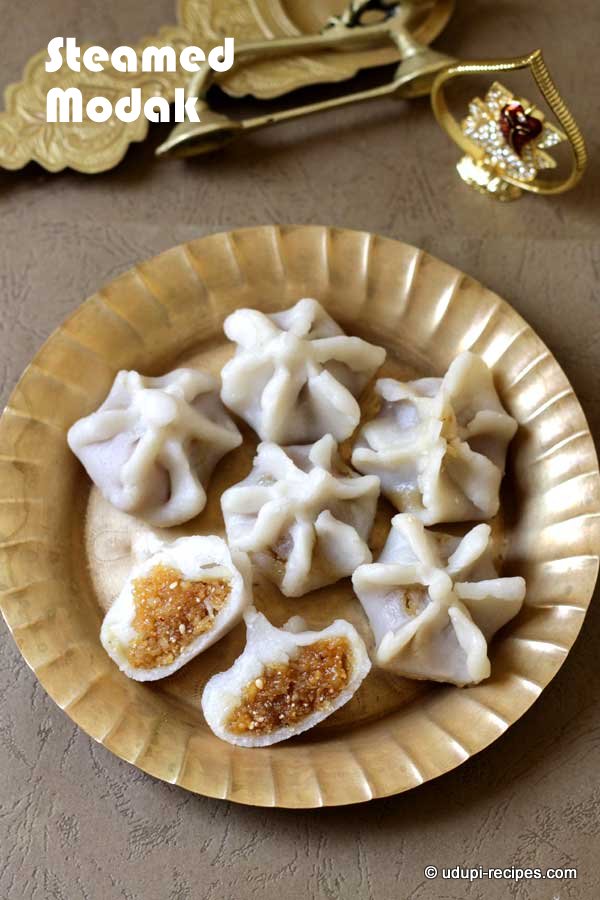 It's always wise to get the coconut stuffing prepared before the outer covering. This is because you will not end up with hard or dry rice dumpling which may break while shaping them. With coconut stuffing ready in advance, you can straight away roll the soft rice balls and continue filling, sealing artistically. So get-set-ON with steamed modak for BIG DAY to come.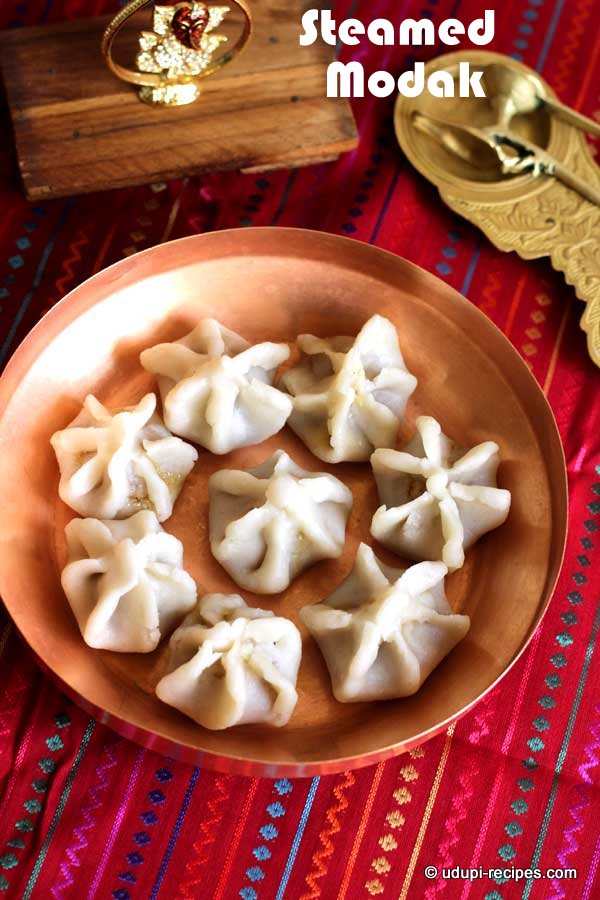 Steamed Modak Recipe | Ganesh Chaturthi 2015 Recipes
Ingredients
Fresh grated coconut- 1 cup
Powdered or grated jaggery- 1/2 cup
Cardamoms- 3 to 4
Poppy seeds- 1 tsp
White sesame seeds- 1 tsp
Ghee- 2 tsp

Ingredients for outer covering

Rice flour- 1 cup
Salt- A pinch
Ghee- 1 tsp
Instructions
Preparation

Sieve the rice flour using fine sieve and keep it aside.

Method

The process starts with preparation of coconut filling. Heat a wok and roast the sesame seeds till they splutter and turn brown in color. Transfer it to a plate and add ghee to the same wok and roast the poppy seeds for a while.
Next add fresh grated coconut and jaggery together to the same wok. Cook for a while till the jaggery dissolves completely. Next include cardamom powder and roasted sesame seeds. Cook till the mixture is thick and doesn't stick to the bottom anymore. Switch off the flame.
Again heat a separate wok with 1 cup of water, salt and ghee. As it starts boiling include sieved rice flour. Combine the flour using a ladle and switch off the flame.
Now the rice flour is in crumbled form. When your hands can bear the heat, knead the rice flour well till you obtain dough without any crack.
Next pinch lemon sized dough and roll it in the form of ball. Keep all these rice balls covered with a damp cloth. Using rolling pin roll the rice ball to 1.5 inch circle and place little coconut filling at the center.
Next pinch the edges at equal intervals and bring the edges together and seal it to form peak. Prepare modaks like this with rest of the dough. And steam cook it in idli steamer for about 15 minutes. Cook for 5 minutes in high flame and then 10 minutes in low flame.
Steamed modak for Ganesh chaturthi is ready to offer.

Notes

When preparing the coconut filling for modak it's not necessary to add any water. The moisture in coconut is enough to dissolve the jaggery.
Do not overcook this mixture which will turn the filling more solid like and it is not recommended.
I have used rolling pin to roll out the dough, you can even expand the rice ball in to disc using your fingers.
Seal the edges properly otherwise coconut filling will spill out while steaming.
If you reserve the modak the next day, the outer covering would turn hard to chew. So it's better to consume the same day.
http://udupi-recipes.com/2015/09/steamed-modak-recipe-ganesh-chaturthi-2015-recipes.html
All the content in this website are © Copyrighted to – Udupi-Recipes