As my native is Udupi and I regularly visit the famous temples of this place. Udupi is well known for Shri Krishna temple. It is said that the Shri Krishna idol of this temple is installed by Shri Madhwacharya. Every day the devotees who visit this temple will be served "Shri Krishna Prasadam" as lunch. And believe me this feast is of outstanding taste. The saaru | rasam of Shri Krishna temple is really awesome. The flavor of this saaru cannot be obtained anywhere else. I always try my tomato saaru to get the taste of that Udupi saaru. Here is my recipe for the same.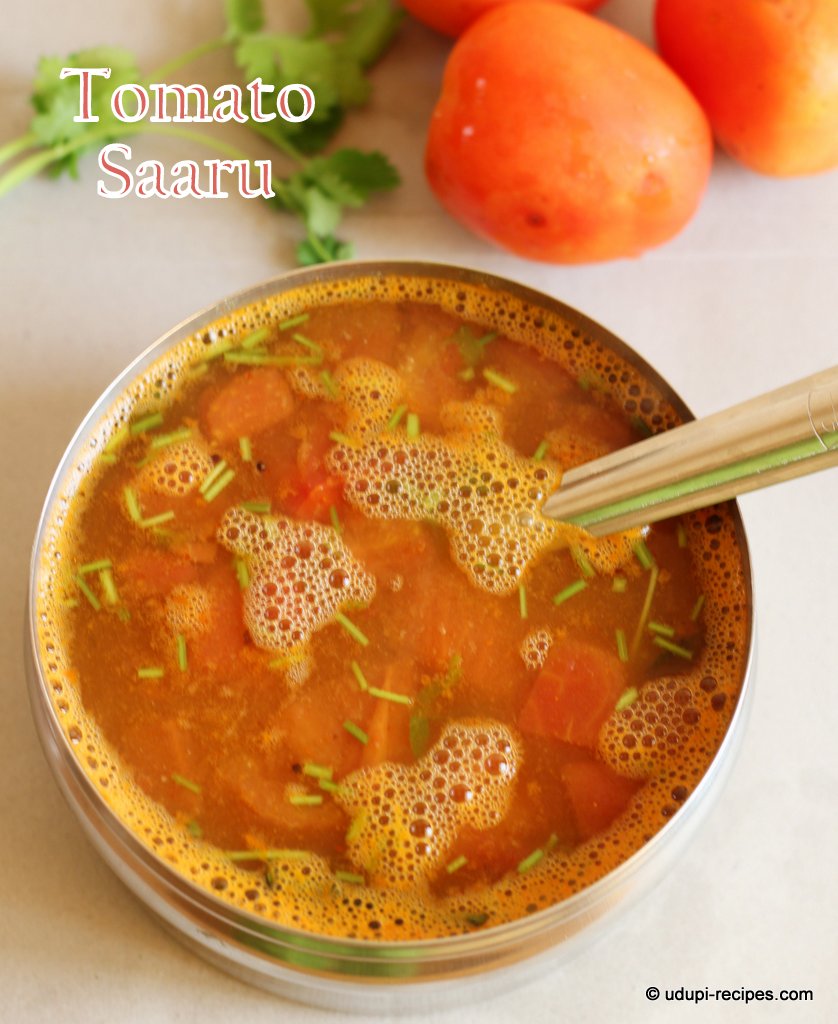 Udupi Rasam/Tomato Saaru Recipe-How to prepare rasam in Udupi style
Ingredients
Tomato- 2 medium sized
Toor dal- 1/2 cup
Jaggery-2 tsp
Tamarind- Small lemon sized
Green chillies- 2 (Optional)
Curry leaves- 2 strands
Turmeric powder- 1/4 tsp
Asafoetida- A pinch
Udupi Rasam powder- 31/2 tsp
Salt to taste
Coriander leaves- Handful

For seasoning

oil- 1 tsp
Mustard seeds- 1 tsp
Urad daal- 1 tsp
Red chilly- 1
Curry leaves- 1 strand
Instructions
Preparation

Wash toor daal in clean water and pressure cook till it is soft. Mash it completely using back of ladle.
Chop the tomatoes in to small pieces and keep aside.
Soak tamarind in a cup of warm water.

Method

Extract tamarind juice completely, dilute it if needed and discard the pulp.
In a vessel add tamarind juice, pinch of turmeric powder, slit green chillies, two strands of curry leaves and jaggery. Boil this till the jaggery melts.
Now add the chopped tomatoes and one spoon of Udupi rasam powder and simmer the flame. As it boils the aroma of rasam powder spreads out.
Once the tomatoes are mushy, add the cooked daal and enough water to get the consistency of rasam.
Now add salt and remaining 21/2 spoons of Udupi rasam powder. Let it boil.
Add asafoetida and coriander leaves. Switch off the flame.
At the end heat a table spoon of coconut oil (in Udupi coconut oil is used for cooking) and add all the ingredients of seasoning and pour it over the rasam.
Now typical Udupi rasam is ready to serve with hot rice.
http://udupi-recipes.com/2012/08/udupi-rasamtomato-saaru-recipe-how-to-prepare-rasam-in-udupi-style.html
All the content in this website are © Copyrighted to – Udupi-Recipes
Meet you all with one more interesting Udupi recipe. Till then bye.