One of the classic recipe of Udupi/coastal Karnataka is ottu shavige | shemige | akki shavige. This is a wonderful breakfast dish, however it can be enjoyed as lunch and dinner as well. Shavige, a string hopper is also known as sevige/semige in Tulu and idiyappam in Malayalam. Each family in Udupi owns "Shavige mane" for ottu shevige preparation which obviously tedious to clean. But now it is also possible to prepare this shevige using Chakkuli press that is easy to clean. Here is the easy recipe for an excellent tasty shavige.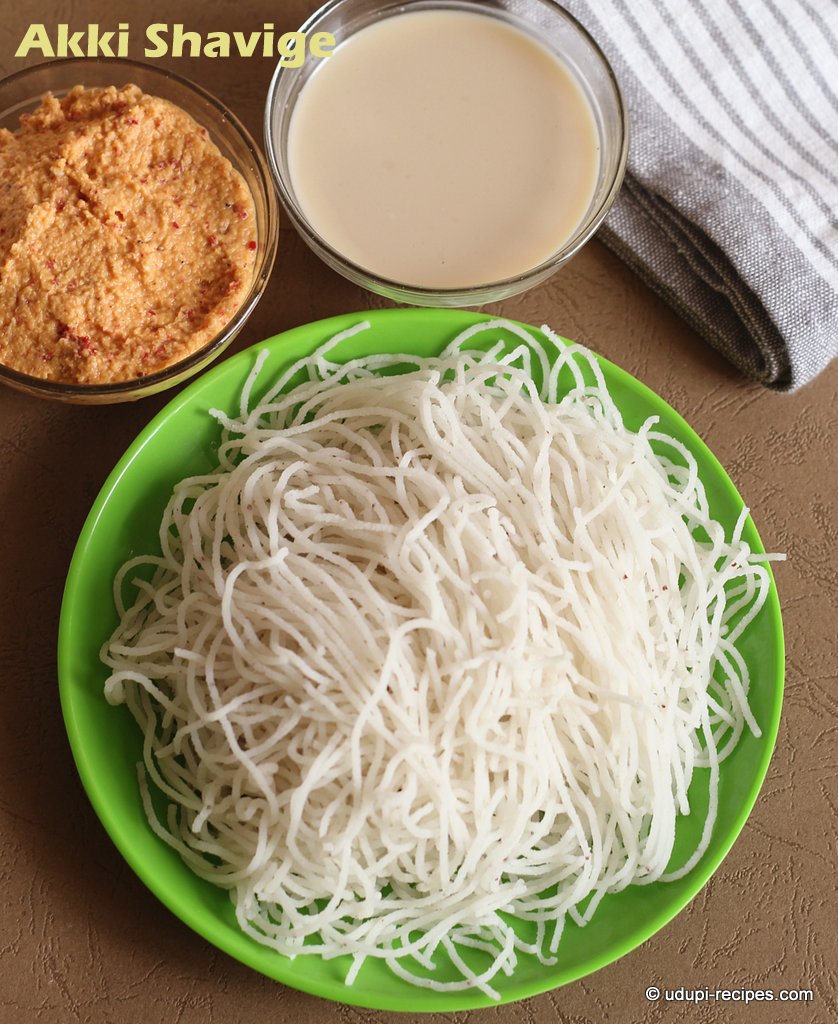 Akki Shavige/Ottu Shavige Recipe/(Idiyappam String Hopper Recipe)
Ingredients
Dosa Rice- 2 cups
Grated coconut-1 Cup
Salt to taste
Instructions
Preparation

Soak rice in enough water for 2 to 3 hours or overnight.

Method

Grind soaked rice along with grated coconut and salt to smooth paste adding enough water. The consistency of the batter should be thin like buttermilk.
Take a heavy bottomed pan or kadai and grease coconut oil to it. Pour the batter in to this pan and cook on medium flame. Saute continuously till the entire mixture forms a single dumpling. This will take around 10-15 mins. Switch off the flame.
Now without waiting for the dumpling to cool, make smaller cylindrical shaped dumplings say of length 4 to 5 inches and thickness of 2 to 3 inches. You can wet your hands with water to avoid dumpling from sticking to your hand.
Place these cylindrical dumplings in idly stand and steam cook for about 15-20 minutes. You can use pressure cooker without weight for this purpose. Make sure these dumplings are well cooked otherwise shevige will be sticky. You can check this by piercing a knife in to the dumpling, if it comes out clean then the dumplings are cooked properly. If not they have to be steamed for some more time.
Now place one or two hot cylindrical rice dumpling in chakkuli presser and press in to thin noodles on a plate. You cannot press shavige if the dumplings cool down. So let the rice dumplings be on low flame till you finish pressing the last one.
Place these shevige on banana leaf/wet cloth and let them cool. Basic akki shavige/ottu shavige is now ready.
Using this shavige you can prepare shavige chitranna or this can be served with sweet coconut milk(Kayi halu), rasayana or any curry of your choice. They taste yammy............

Note

The ground rice batter should be of running consistency. So add water accordingly.
Do not wait till the dumpling to cool, when it is still warm make cylindrical balls.
Till you finish pressing the last dumpling ball in to shavige, let the cylindrical dumpling balls steaming in low flame. Because once it cools you cannot press it in to shevige.
http://udupi-recipes.com/2012/08/akki-shavigeottu-shavige-recipeidiyappam-string-hopper-recipe.html
All the content in this website are © Copyrighted to – Udupi-Recipes
Meet you all with one more interesting Udupi recipe. Till then bye.